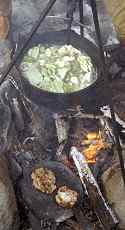 Menu: I created four different daily menus, one for each season of the year, using foodstuffs that are known to have been available to Norse era people. Lacking any better information, I used combinations of foodstuffs and proportions similar to what we prepare and consume at our Hurstwic feasts. For example, the flat bread we consume is made up of equal parts wheat, barley, oat, and rye flours, along with whey, honey, and nuts. The main dish is a boiled stew of meat (beef, pork, lamb, or fish) and vegetables (cabbage, leeks, onions, beans, and/or peas).
Each of the four menus was designed to represent foods available during the different seasons of the year. For example, a wider variety and larger quantities of foods were used for the autumn diet, and fresh dairy products were deleted from the winter diet.
As mentioned on the previous page, I was forced to revise upwards my estimates of quantities consumed in order to bring caloric intake more in line with probable caloric requirements of people in that era.
One can easily imagine considerably more ale being consumed than I included in this diet. However, I suspect the ale consumed during a normal day was weaker than modern ales (which is what is in the database of the analysis software), so I intentionally reduced the quantity consumed to compensate.